Oracle Responsys Express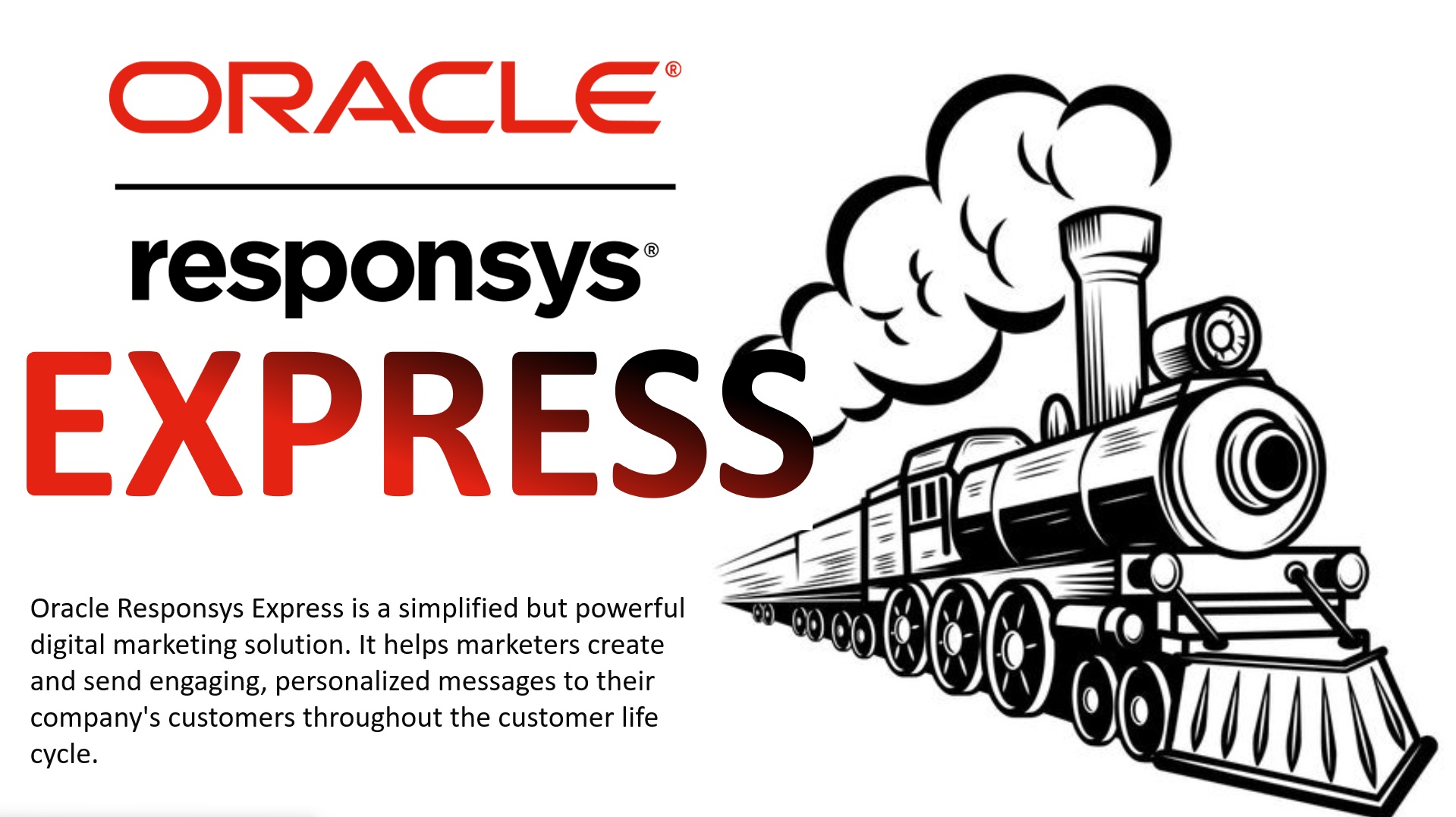 What to expect in Oracle Responsys Express
The Responsys platform at its core is an extremely functional omnichannel communications platform, while Responsys Express, is a slimline version combining the platform's core functionality with ease of use for short adoption cycles and quick implementations. Responsys Express acheives this by reducing the functionality within the platform while retaining the same, best in class, engine behind the UI. Responsys Express has a whole new look and feel and the design is heavily drawn from the Red Wood branding.
Dashboard updates when you first login:
The dashboard is fixed width and scrolls side to side to expose more information about the account.
The hamburger menu, providing access to the account menu, has been removed from the traditional location in the landing pages, in order to access menu's you simply click on the Oracle "O" in the bottom right hand side of the screen. Initially this may seem counter intuitive but will become second nature over time.
Compare the Express dashboard with the current Responsys Dashboard
Current Responsys Dashboard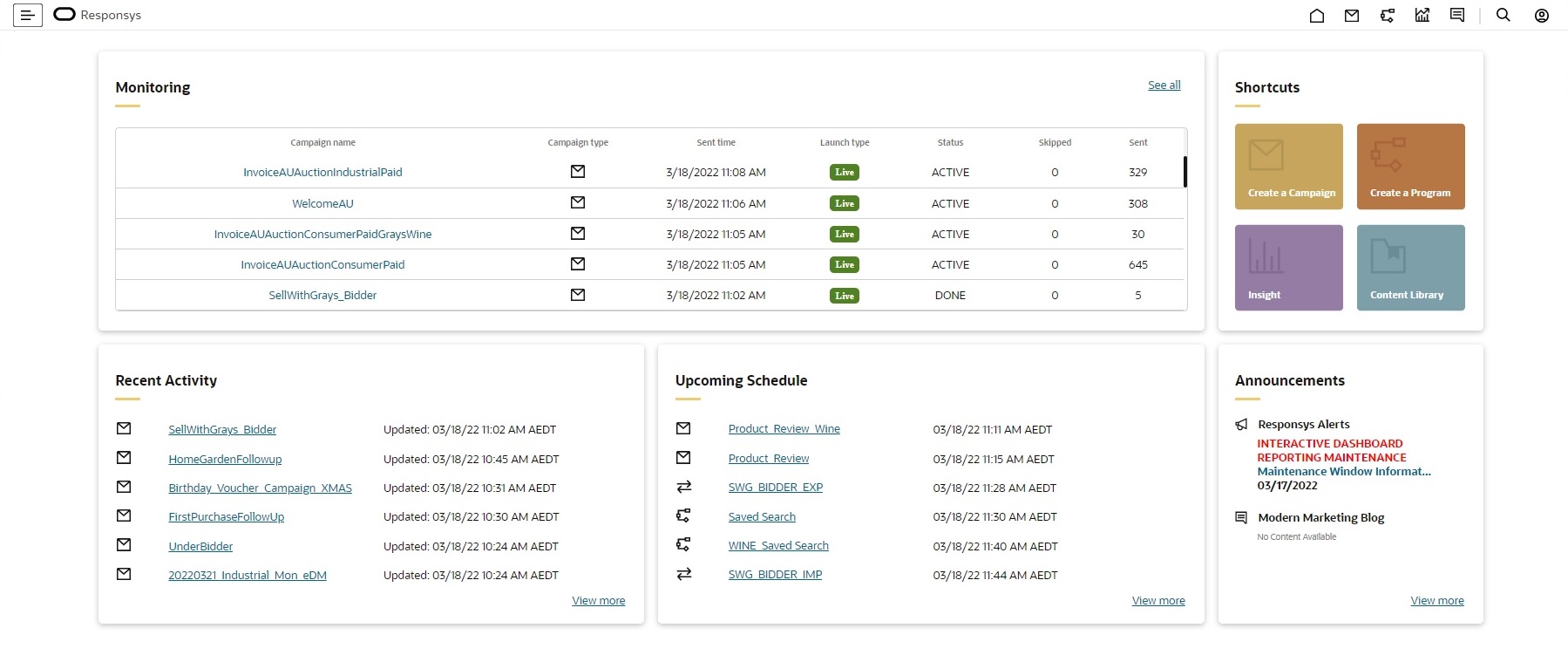 Responsys Express Dashboard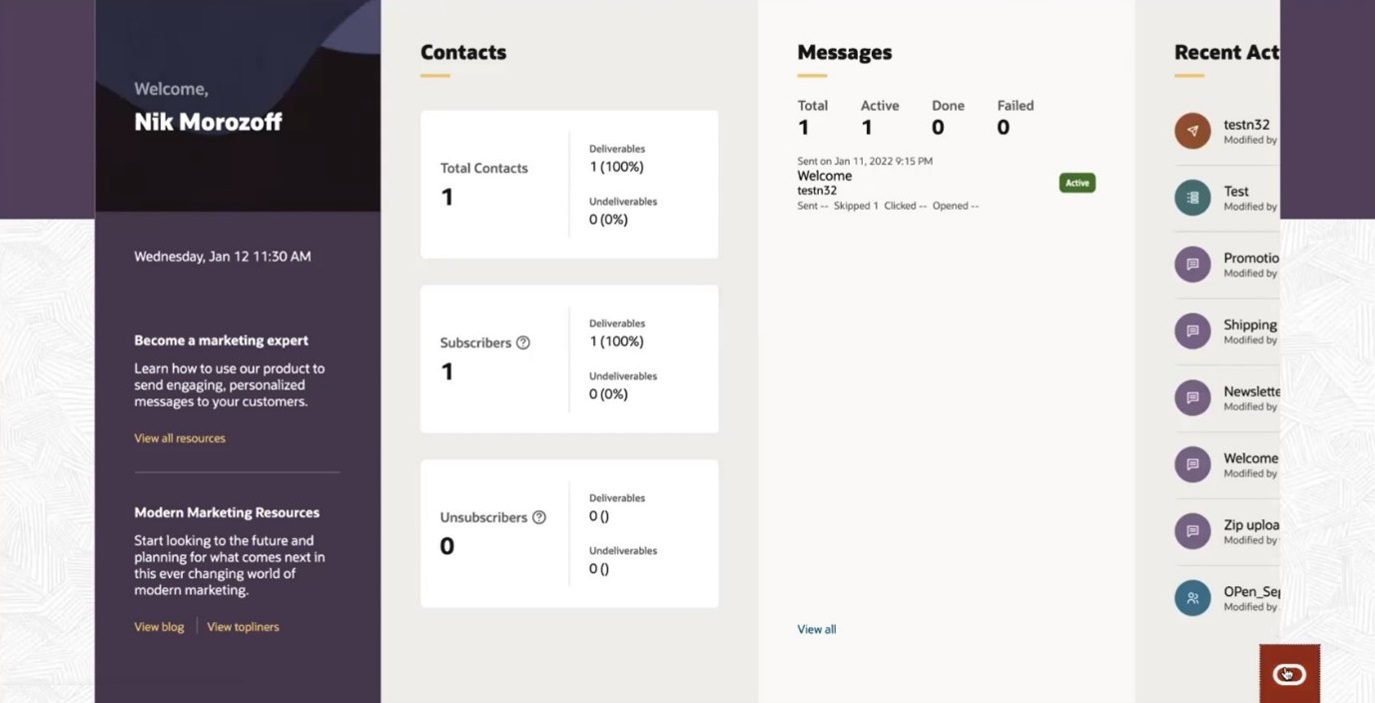 Segmentation and attribute updates - Data and Filters
Profile Lists, PET's and Supplemental tables are renamed, known as Workspaces and Attribute Groups.
Attribute groups can be contact based or lookup groups, effectively mimicking the data structure currently within Responsys. Fields (or Columns) within the tables are to be renamed "Attributes".
Contact Groups can be either 1-1 or 1-many in relationship, which in turn effectively removes the requirement for SQL in the platform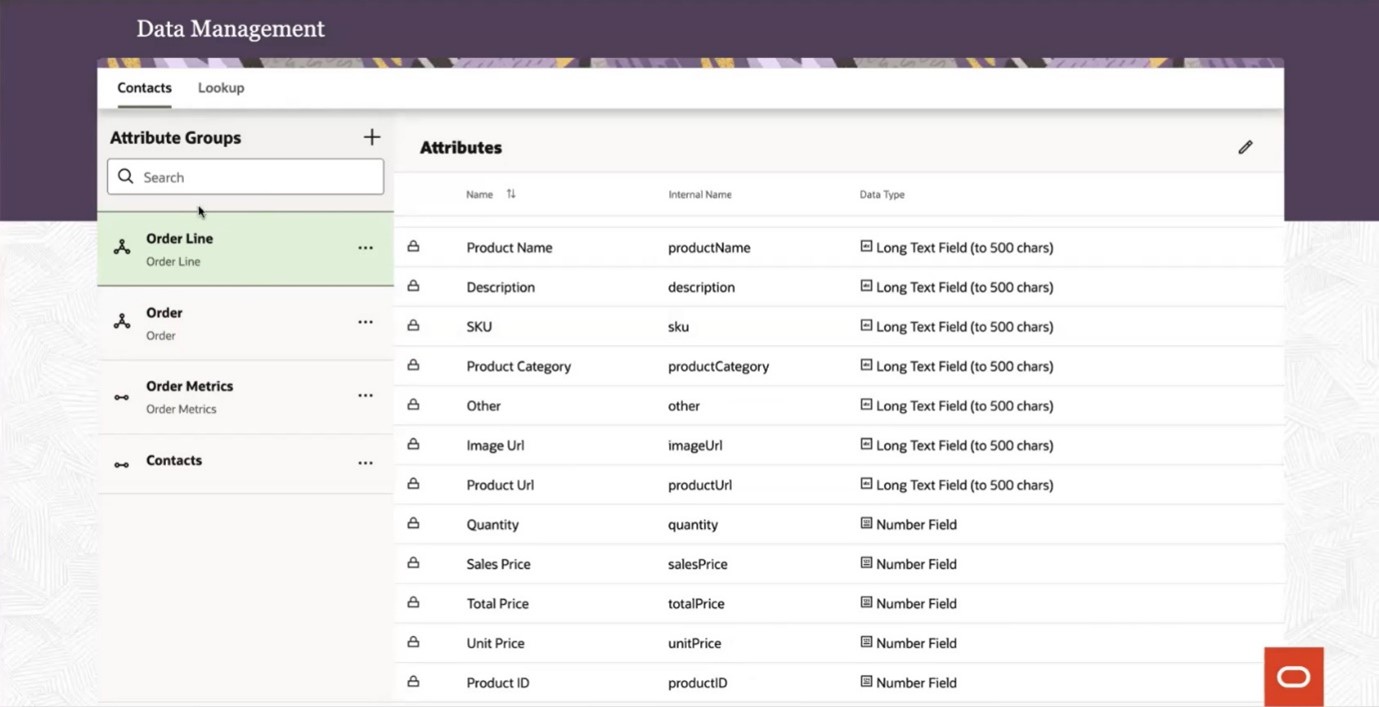 Filters, Audiences and Segments groups are replaced by a singular Segment.
Segments are used for targeting and reporting.
Creating segments is done through a series of conditional statements and the use of "AND" and "OR" to define the conditions for inclusion.
The concept is very much aligned with the Oracle Unity CDP platform and the way this platform segments customers.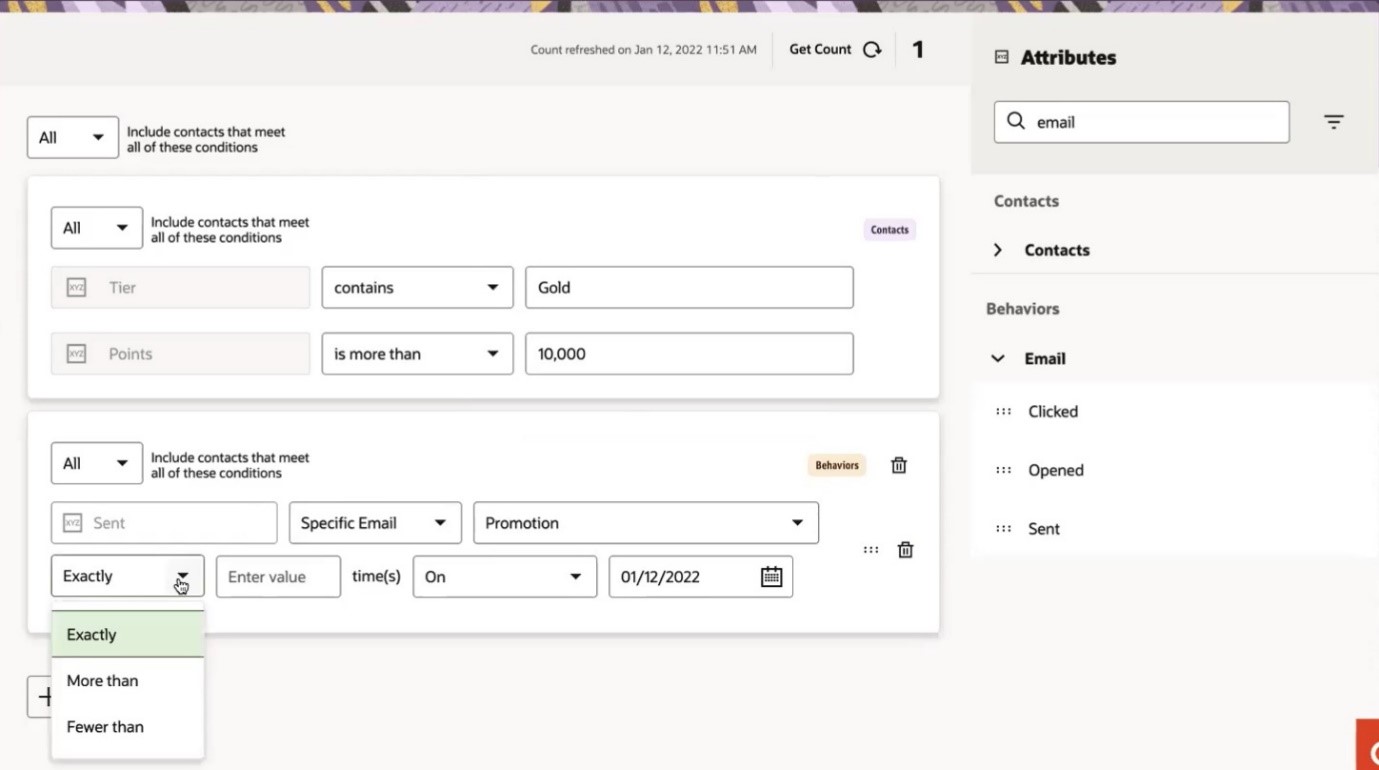 Messages and Campaign updates:
Standalone Campaigns no longer exist.
All campaigns are required to be built in a program to send.
Naming has been changed, with Campaigns becoming Messages and Programs now being called campaigns. This will be extremely familiar to anyone who has used Oracle Eloqua, the B2B Marketing Automation Platform.
Messages (formerly campaigns) are designed in the message designer.
Functionality such as dynamic content and personalisation is retained.
HTML is stored at message level rather than in the content library.
Additional snippets of HTML can be saved as blocks, essentially providing a library of re-useable content.
These blocks are used within messages as dynamic content, which is now referred to as "conditional Variance".
Designing message remains relatively the same, with code editing or a rich text visual editor available in the designer.
Oracle are providing pre-built HTML templates within the platform to speed up layout design.
Uploading from a ZIP file is also still available.
Oracle are looking to introduce a simpler drag and drop designer which will make life even easier for Marketers to build responsive communications utilising dynamic content and personalisation.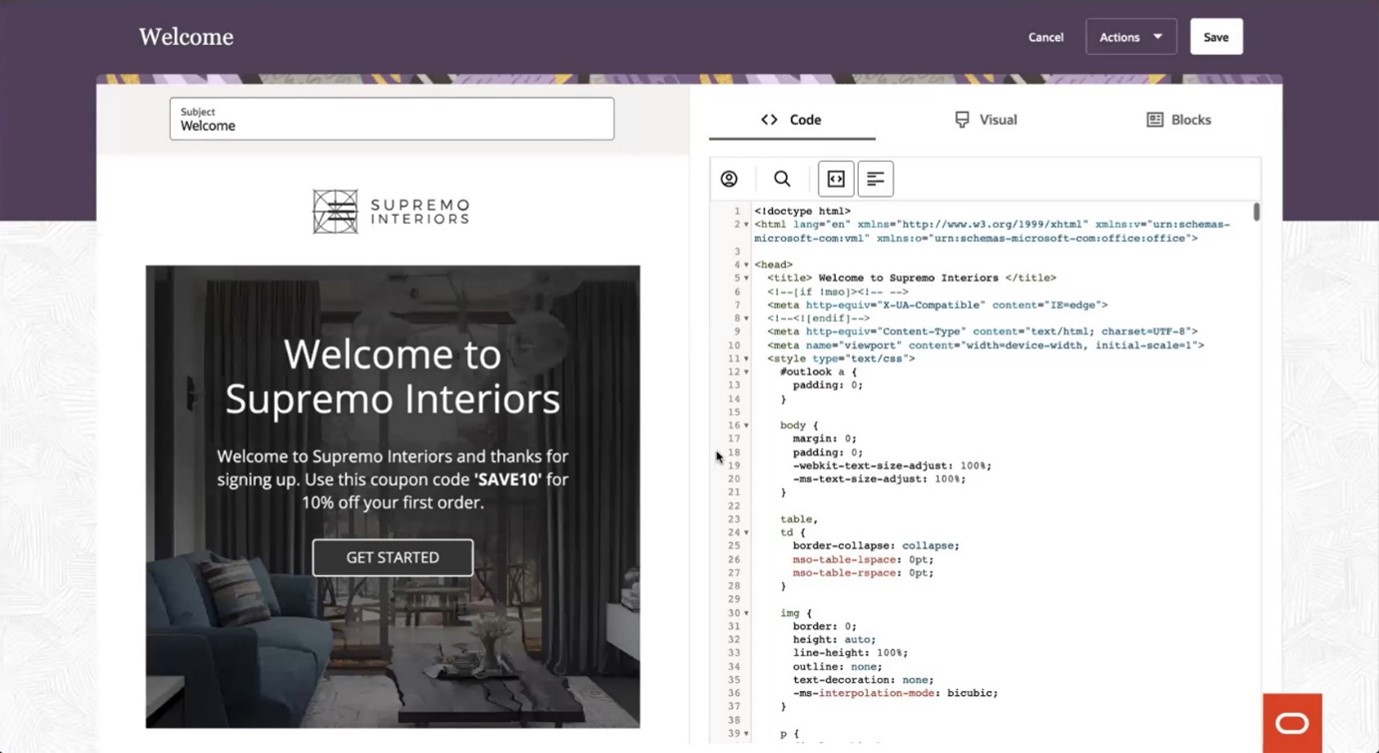 Campaign Tactics
Campaign (formerly Program) has been redesigned and Oracle has introduced what is being called Campaign Tactics, a series of prebuilt commonly used campaign such as 1,2 or 3 Message Campaigns.
In addition, cross-sell, post-purchase, and reactivation are some of the additional tactic campaigns.
Each campaign is completely editable, and all required modules, relevant to email orchestration, are available in the platform.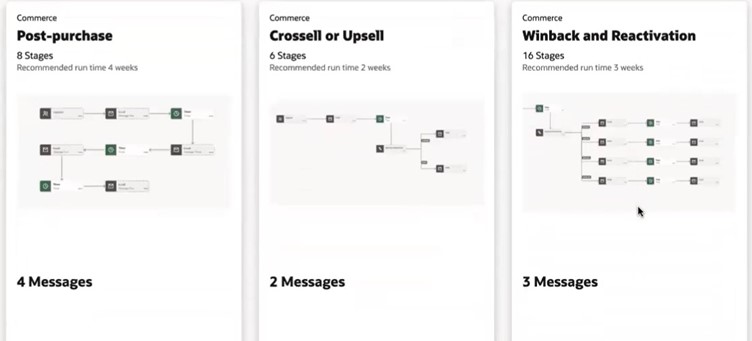 Asset Management Changes
The Content Library has been completely removed.
HTML is stored at Message level and all assets reside in Oracle Content Management (OCM).
This allows for effective management of company's assets, allowing tagging and search functions which improve on the old content library.
Asstes can be grouped into collections for easy searchabililty
OCM is accessed through a seamless interface and comes with ML functionality to provide smart tags (or predictive) for images uploaded, this also makes searching much more efficient.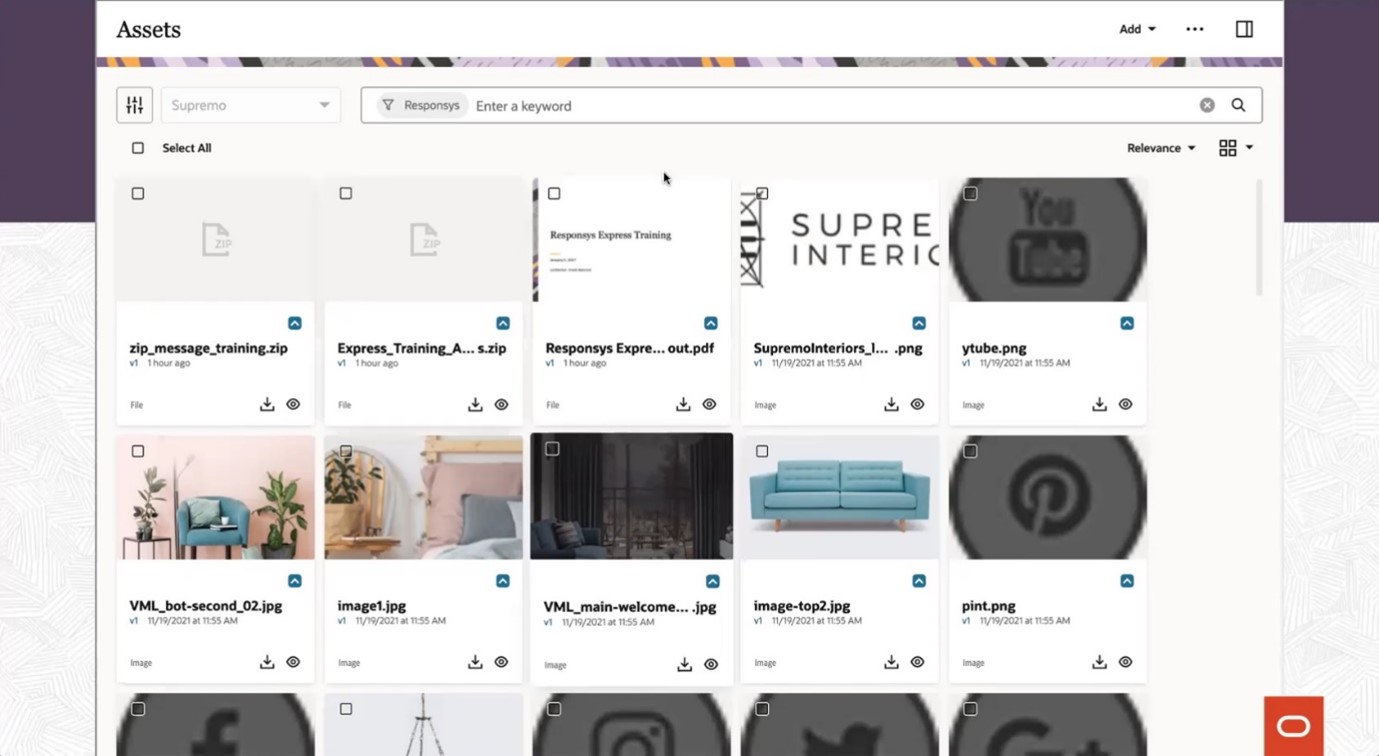 Forms
Forms has changed to support externally hosted forms rather than host forms itself, when creating a form you can now define the input attributes and map these to the various attribute groups.
The form can apply attribution validation to ensure the input is in the correct format and even generates the HTML code for the submission of the data to Responsys Express. This change allows for websites to submit data through to Responsys without having to direct website visitors to a different domain for forms submission as was the case with previous Responsys Hosted Forms.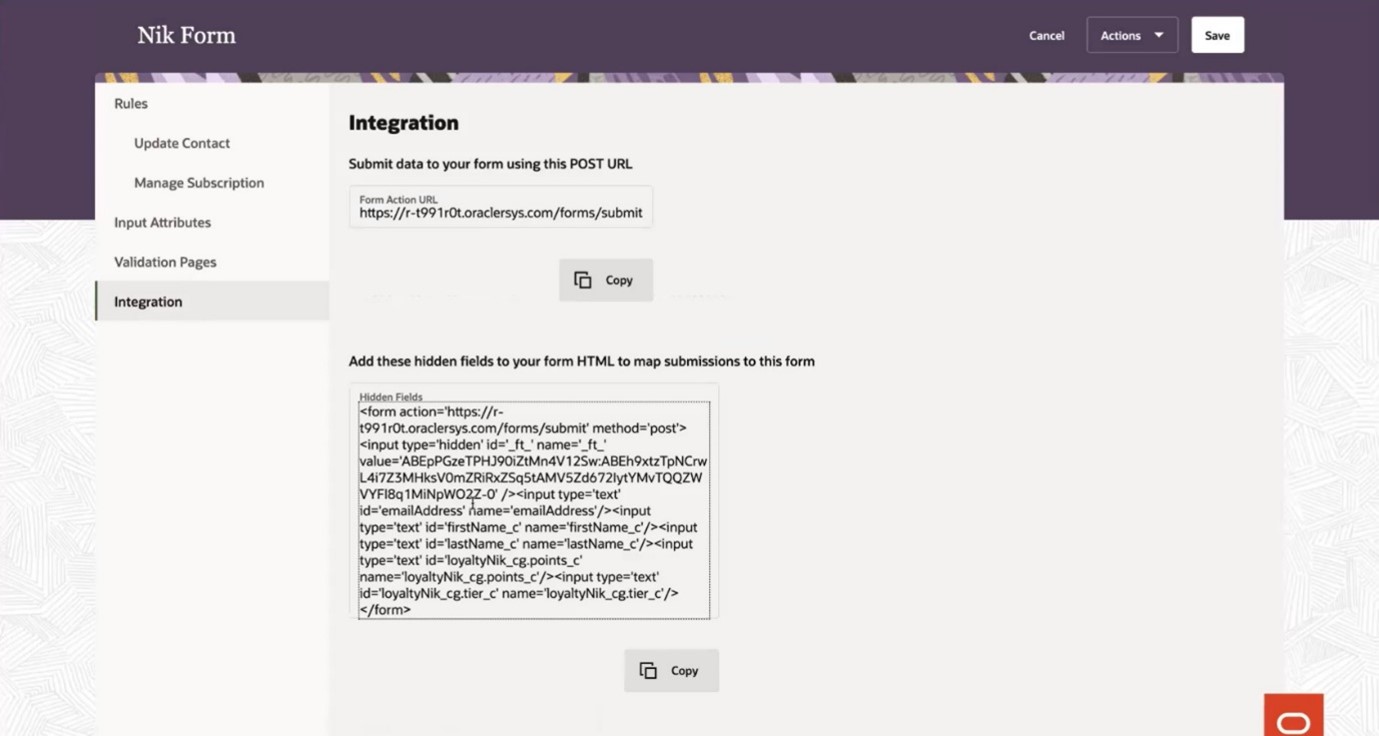 E-commerce Integrations
One very significant addition to the Responsys platform is the inclusion of direct integrations with eCommerce platforms.
Shopify and Magento are two of the most popular eCommerce solution in market and Oracle has developed dedicated connectivity for such platforms. As part of provisioning there are tables specific to transactional data which are created, Products, orders and order line items are prebuilt when an account is created. Integrations with the commerce platforms allow marketers to easily configure data sharing between the platforms, being able to capture order information in real time and recognise common interaction events such as purchase, order cancellation and cart abandon. All of which provides the ability to manage transactional emails through the same platform as promotional, with the inclusion of AFTM, these transactional email are sent even when the platform is offline for maintenance.
The integration with commerce platforms also includes data imports where contacts have associated values such as 3 months, 6 months, total value and purchase information aggregted as it is imported, therefore giving access to this type of data wihtin segments.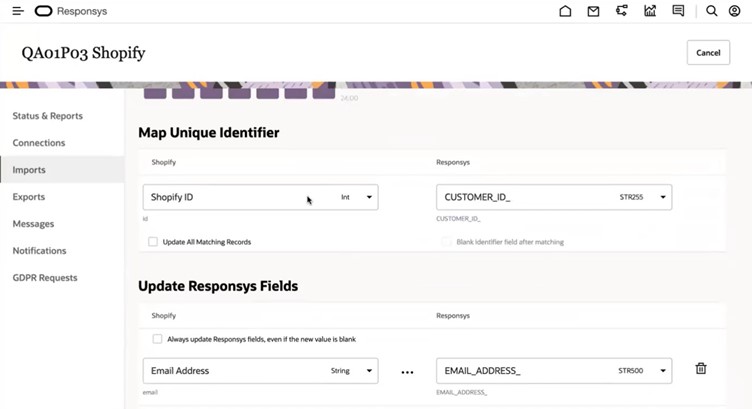 So, if you are a small to mid-sized organisation with big ambitions, need a reliable, capable, and scalable marketing automation platform, and you'd like to learn more about Responsys Express, get in touch with us today.